Press for English
Presione para Español
Sample Our HVAC Training Materials

Here is sample of page of our training materials for our online course Fundamentals of Refrigeration. Our online training not only includes the fundamentals of our on-site education but also full detailed lessons with hands-on workshops, 2d diagrams and 3d visualizations.
Press here to subscribe and become a member!
Basic Refrigeration Cycle
All air conditioning and refrigeration systems are designed to control and contain a circulating refrigerant. The basic refrigeration cycle absorbs unwanted heat at one location and carries it to another location where it can be discarded. Refrigerants are the vital working fluids in any refrigeration system. Refrigerant will absorb heat by evaporation (changing from a liquid to a gas). Then, they release the heat through condensation (changing a gas back to a liquid). In a proper operating system, the refrigerant will not break down, wear out, or become lost unless there is a leak.
A good understanding of the basic refrigeration system is important to your success as a technician since "complicated" systems are simply basic systems with one or more components added to make them more efficient, versatile, or serviceable. You must learn the refrigeration cycle well.
Press on the images to see a larger version; then press the left and right arrows to move through the images. Press the escape key to return to the site.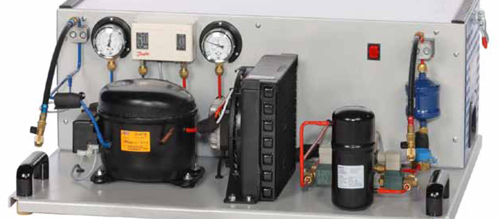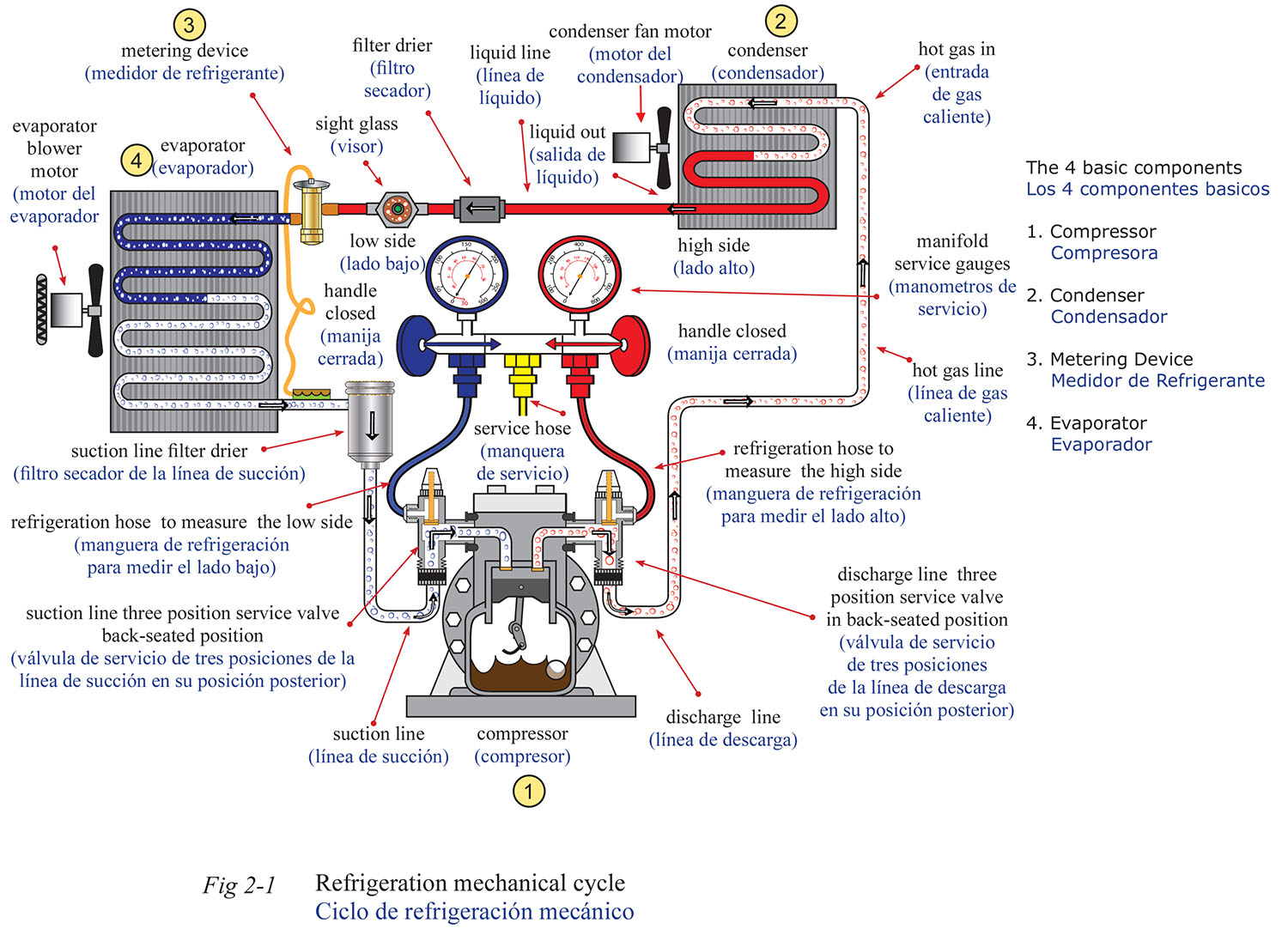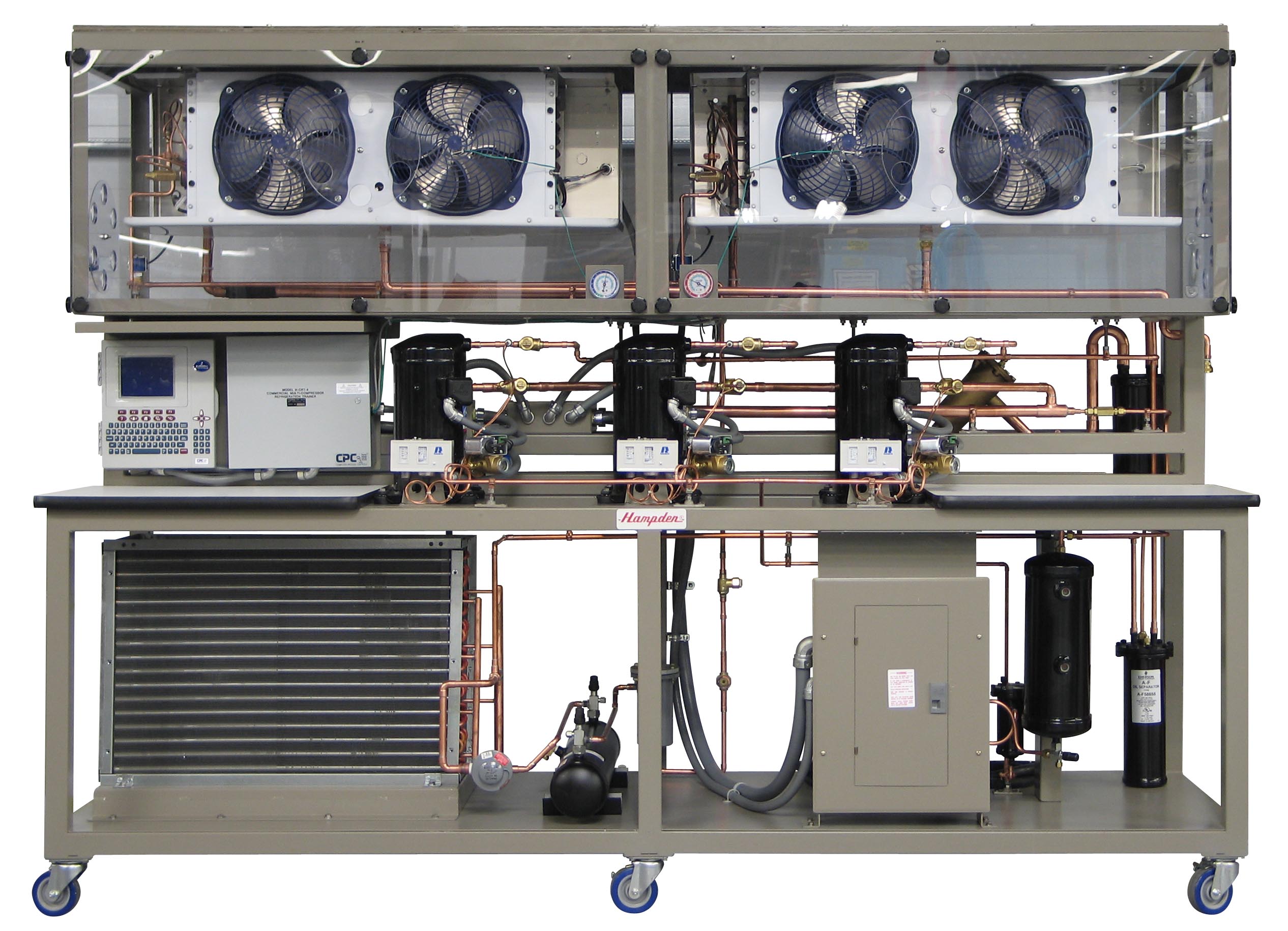 Ejemplo de Nuestros Materiales de Entrenamiento HVAC

Aquí está una página que muestra nuestros materials de entrenamiento de nuestro cursos en línea Fundamentos de la Refrigeración. Nuestro entrenamiento en línea no sólo incluye los fundamentos de nuestra educación de nuestro insituto, sino también lecciones detalladas y completas, con taller prácticos,  diagramas 2D y 3D animación.
Presione aqui para inscribirse y convertirse en un miembro!

Ciclo de Refrigeración Básico
Todos los sistemas de aire acondicionado y refrigeración están diseñados para controlar y contener un refrigerante que circula el sistema. El ciclo básico de refrigeración absorbe el calor no deseable en un área, y lo mueve a otra área donde lo desecha. Los refrigerantes son los químico vitales en cualquier sistema de refrigeración. Los refrigerantes absorben calor por medio de la evaporación (cambiando de líquido a gas). Despues ellos descargan el calor a través de la condensación (cambiando el gas a un líquido). En un sistema que funciona apropiadamente, el refrigerante no se desgastará, deteriorará o se desvanecerá, a no ser que tenga fugas.
Un buen conocimiento del ciclo básico de refrigeración es importante para tu éxito como técnico, dado que un sistema "complicado" de refrigeración, es simplemente un sistema básico de refrigeración con uno o mas comp agregados al sistema para hacerlos más versátiles, eficientes o para que den mejor servicio. Tienes que aprender bien el ciclo de refrigeración.
Pulse en las imágenes para ver una versión más grande; despues pulse las flechas izquierda y derecha para desplazarse por las imágenes. Pulse la tecla de escape para volver al sitio.